Supreme Court of Kenya: First female "Chief Justice" in the country's history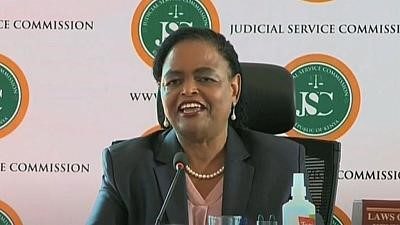 Kenya is about to have its first female chief justice in the country's history.
Court of Appeal Judge Martha Koome became the top candidate out of ten applicants for the position.
Her selection was announced by the Judicial Service Commission of Kenya on Tuesday, April 27.
Her name has been forwarded to President Uhuru Kenyatta for appointment, before being submitted to parliament for approval.
She was born in 1960 in Meru County.
She is well known in the civil society movement and was first appointed a High Court judge in 2003.
In her past career, she has been a strong advocate for the rights of women and children.
Ms. Koome holds a Master of Laws in Public International Law from the University of London (2010), a Bachelor of Laws from the University of Nairobi (1986), and a post-graduate diploma in law from the Kenya School of Law.
If confirmed by President Kenyatta, Lady Justice Koome will become the first female Chief Justice of the Republic of Kenya.
As a reminder, Lady Justice Koome will become the seventh sitting female Chief Justice to hold the position in Africa.
The Supreme Court of Kenya, has been a member of the CJCA since April 2017.